So moving forward with my life means significantly trimming down my collection. Here's the complete list currently...
720, Assault, Asteroids, Asteroids Deluxe, Battlezone, Berzerk, Centipede, Crazy Climber Cocktail, Defender, Dig Dug, Discs Of Tron (UDOT), Donkey Kong, Donkey Kong 3, Donkey Kong Jr., Elevator Action, Frogger, Galaga, Galaxian, Gaplus, Gauntlet 2, Hard Driving (upright), I, Robot, Joust, Jungle King, Krull, Major Havoc (Space Duel Conversion), Mappy, Mappy Cocktail, Mario Bros, Millipede, Missile Command, Mr. Do, Ms. Pac-man, Omega Race, Operation Wolf, Pac-man, Paperboy, Phoenix, Pole Position, Pole Position II, Popeye, Punchout, Q*Bert, Rip Off, Robotron, Rolling Thunder, Satan's Hollow, Sinistar, Space Invaders, Spave Invaders Deluxe, Spy Hunter, Star Wars, Stargate, Tempest, Tron, Zaxxon
I'll be keeping some machines but most are up for grabs. I'll have a pricing page in a bit.
It's been a great 4 years. I had a fantastic time hosting the events and met so many great people. At least we have our memories. :)
Don't forget to go to my website thelastarcadeontheplanet.com or my 'Last Arcade on the Planet' facebook page.
4 months now for an update? WOW. For 2 months my back was fucked up. My back and leg were in terrible pain. Sucked. Thankfully, I'm all better now.
I took a day and fixed the Williams Flash pinball. Getting my spare Centipede and Millipede ready to sell. Gotta' get rid of the extra games. I have 3 spare Asteroids hanging around in the back that have to go as well.
Fixed the ever elusive Robotron monitor scrolling problem. Holy shitballs... that was a pain in the ass. The screen kept scroll horizontally but wouldn't scroll when you plugged it into another machine. Crazy, man... crazy. Turned out to be a few things. So the deal was I bought this Robotron for like $50 and brought it back to life but the monitor was history. It was dull, blurry and rejuvenating it did nothing. So I decided to gut the monitor chassis and fit in a new WG19K7302 driver board with accompanying CRT. It fit in great, (after some snipping), but when I installed it into the machine, the screen kept scrolling. A few FETs and a 1.5 ohm pot later, the bastard was playing nicer but still kept scrolling. I was getting pissed at that point so I opened both Robotron open and recorded both horizontal sync signals. Turned out the one was scrolling was low 0.25V. Beefed up the 5V output on the power supply and now it's solid as rock. BAM! In yo' face, Robotron!
By the way, my full game list is here: VAPS list
What the hell?! 3 months for an update? Good thing no one reads this! Anyway, I, Robot is fixed! I rebuilt both Robotrons and they are awesome! Donkey Kong and Donkey Kong Jr. got original Nintendo joysticks and a coin door for Jr.
Damn, there goes that time flying by again. Jeez, been a month already? Sorry, peeps. Things outside the warehouse have got me too busy to do much else.
Anyways, I FINALLY have a 'Jungle King' and a 'Q*Bert'! WOOHOO! 'Mad Planets' on the way? Unlikely... hard to find around these parts. 'F-14 Tomcat' and 'High Speed' will be a bit easier to find. :)
'I, Robot' is still broken and haven't had any time to look at it lately. All well, it will work one day. :)
That's about it. My girlfriend's birthday is coming up and there'll be a party... of course! Check out the facebook page for details.
Damn... time just flies by. I haven't been updating this. I should set up something to update everything, (this site, facebook, myspace, twitter... all that crap), at one place. I'll have a look at their API's and see if I can remote post from here.
Anyway, a lot has been going on in the past couple of months.
Bought a 'Jackbot'! The last in the great 'Pinbot' series!
Bought a 'Zoo Keeper'... just awesome!
Bought an 'Elevator action'. Got a Taito collection in the works! Hoping to get a 'Jungle King'
Fixed the marquee lights in all the games. A lot of dead starters or lamps.
I would like to get a 'Q*Bert' and a 'Mad Planets' to add to my Gottlieb collection.
Also, a Williams 'F-14 Tomcat' and a 'Highspeed' and 'Highspeed 2'
That's about it. I'd love to get more classic stuff like a 'Space War', 'Tail Gunner', stuff like that. We'll see.
I picked up a Zaxxon... just because.
I've fixed Pinbot, Bride of Pinbot, Galaga & Punchout!! More to come!
I'll be posting videos soon of my progress working on the machines... hilarity to ensue. Stay tuned.
Has a lot of issues but it looks fantastic! At least I got it powered up and working. Needs more love, though.
Best... Taito... Game... EVER. Needs some fixing up, though.
Some severe cleaning and monitor servicing and the Star Wars is working great now.
Centipede and Assault are now working great and ready for the next party!
Defender & Donkey Kong 3 are fixed! I repeat... Defender & Donkey Kong 3 are fixed! :) Working on Punchout now. De Pawnch is becoming problematic.
Stargate is fixed! I repeat... Stargate is fixed! :)
I finally got a Food Fight... and it is AWESOME! :)
I've been sick for at least a week and feeling like poop in general. I've been slacking in my super restoration plans so no Paperboy restore, no Galaga restore, (although, it is up and running), and no Omega Race restore. Oh yeah, I bought an Omega Race not knowing these things are infamous for the battery to leak acid all over the PCB. All well. It's still pretty cool! ;)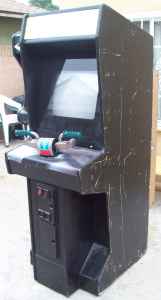 I don't know why I bought THIS one. I guess I felt bad for it. It'll have a good home here. I've been collecting all of his guts and I'll put him back together ala Frankenstein's monster. :) Thankfully, the arcade gaming community has been helping me out big time in making this possible. I'll keep you all up to date on this.
No pics yet but I've been overhauling the worse of my Galagas. It'll be minty fresh when I'm done with it! All original recipe hardware, new cabinet, the works!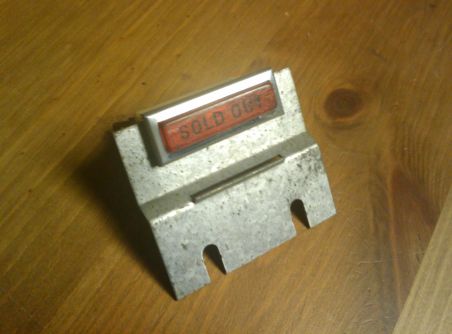 Asteroids is finally up and running! Bad bridge rectifier, dead capacitor and cold solder joints on the regulator board followed up with a poorly seated fuse on the power brick. Game on!
Sorry, people. I've been pretty busy and haven't had a lot of time updating this site. So here's the poop...
The party the other day was awesome! A lot of people showed up from work, KLOVers and my friends from all over. It was a lot of fun and a great pre-party to a full event. I'll post pics in a bit. You can check out the facebook page The Last Arcade On The Planet for pics in the meantime. :)
Looks like the next party is on for May 21st. For shit's and giggles, it'll be be camo night in honor of Armed Forces Day. I got something up my sleeve and will try to have the games set up so they don't need to be continually credited to play. We'll have the usual awesomeness and I'll try to have all the machines up and running by then, (fingers crossed).
I'll be doing a proper news repair log of all the machines I have, including new ones I'll be getting. Right now, here's the low-down...
Asteroids is still kicking my ass. I got the regulator board working to where the fuses don't blow but now I got spot killer on the main deflection board and no neck glow on the tube. Looking into the HV board for problems and connections.
Donkey Kong Jr. Sanyo EZV monitor is as good as new. Game on!
Mario Bros. joystick is now smooth as glass! I bought beautiful new Nintendo buttons for it and Donkey Kong Jr. as well.
I set up Pinbot and Bride of Pinbot: The Machine finally in the back. Just need to balance them out and do some maintenance.
A friend let me put his Rastan in my warehouse for safe keeping! It's in the most insane Tron conversion cabinet ever!
Lastly, I got myself a Krull! It's a little beat up, (aren't they all), but plays like a charm. :)
I finally moved all my machines out of storage and leased a warehouse space to restore them all! I already revitalized the Asteroids Deluxe. Pictures to come!
It was a long journey but the quest has ended. Discs of Tron has been acquired! ...and, of course, it needs lots of love.
A few tweaks here and there and it'll be perfect.
Needs the usual cosmetic love but I'm happy.
Damn, I always wanted this pinball machine especially after playing it at the Pinball Museum in Las Vegas with my girlfriend. Now I have one! w00t! Needs a little TLC but it's AWESOME!
OK. I did it... I know it won't be the last arcade, (it'll sure seem like the last), but it'll be the best classic arcade on the planet! Check out 'The Last Arcade on the Planet'.
Finally getting down and dirty to restore some of my games that need it the most. Since I got the materials first, my first project is going to be Frogger. Check it out.
Scored a very nice Tron in San Marcos and a sweet Galaga from ChaosJohn.
I finally got a Donkey Kong Jr. It's a bit beat up and will require some TLC but it will restore nicely!
CAX was a lot of fun. Lots of obscure prototypes and rare classics. I particularly liked seeing a 'Death Race' and 'Bandido' again. Also got to actually play the proposed sequel to Marble Madness, 'Marble Man', which I thought was an insult to the original. The Tron 'Video Pinball' conversion that Richard from ThisOldGame.com did was awesome and inspiring. I'll slap a few pics up in a bit.
I also managed to pick up one of the last games on my want list. A pristine 'Sinistar'. It looks and plays amazing. The perfect addition to my collection and the last on my Williams want list. I wanted to pick up a few more games but didn't have a truck ready. Just a 'Donkey Kong Jr.' and a 'Discs Of Tron' and I'll be happy.
I'll be at CAX next weekend. It should be a blast!
I totally scored an awesome original wide-body 'Mario Bros.'! Also, I finally got my mitts on a nice 'Galaxian' and a pretty tore up 'Galaga'.
I had a little hiatus but I'm back in action. I bought some new games in the mean time. I got myself an Asteroids Deluxe, Battlezone, Frogger, Missile Command, Ms. Pac Man, Pole Position, Pole Position 2, Rip Off and a Tron. Still working on getting a Donkey Kong Jr., Galaxian, Galaga and a Discs of Tron while I'm dreaming.
The old becomes new again!
Battery acid trip here!
Read the final battle here!
Capped it... tested it... cursed it... pulled it... serviced it... again. All the fun here.
Switched it up a bit. Getting a lot of games. ;)
WOW! Much nicer. Now I just have to update my site.